William Douglas, mill owner
William Douglas (28 Feb 1745-30 Jan 1810) was the head of the firm of William Douglas and Co., cotton spinners and merchants. He served the office of constable of Manchester in 1780. He is sometimes referred to as William Douglas of Penbleton.
William, Of the Old Hall, Pendleton, Lancashire, was the son and 7th child of John Douglas (d. 1762) of St. George's, Hanover Square, an innkeeper of the Hercules Pillars in Hyde Park Road, London, and Mary Gardiner (d. 1766).

Of nine siblings only the three boys survived. After the deaths of his parents he brought up by his younger brother James (1753–1819) in Manchester, where James belatedly attended Manchester grammar school. He was in business with his other brother, Thomas (qv).

William Douglas, later to be known as Black Douglas because of his harsh treatment of pauper children, set up water powered hoist mill at the Pendleton Old Hall Site in 1780. Freedom from Arkwright restrictions resulted in an increase in the size of water powered mills. A letter in 1792 mentions 3,000 to 4,000 spindles at Douglas Mills. Douglas chiefly supplied the master manufacturers with twist and warps, which were then distributed to the handloom weavers. In 1782 the Douglas Mills were constructing textile looms.

In 1786, he employed 5 girl and 3 boy apprentices from St Giles in the Fields; in 1795 there were 15 and 12 from St Luke, Chelsea. He 'employed and paid a clergyman of the Church of England to instruct them in their Bible catechism and other religious duties on Sunday'. It is not clear from where these children came, but pauper children from as far away as Glasgow were placed in the Lancashire mills. William Douglas had, in 1795, apprenticed to him Mary Anne Finch from St Anne's Parish, Westminster, with 'hours of labour seldom exceed(ing) 12 hours a day' - and 'never at night'. The Douglas Green Mills in Salford were sometimes referred to as the Cripple Factory or The White Slave Mill.
He was appointed an Honorary Burgess of Glasgow, 22 Dec 1784.

He married Mary Hargreave, daughter of George Hargreave and Mary Marsden and had 5 children. He is described as 'a key player' in the cotton industry and amassed a fortune. In the history of the Hargreave family, he is described as a banker, possibly Messrs. Douglas, Smalley & Co, in Holywell, established by his son John.

He died 30 Jan 1810 at Pendleton Hall, and was succeeded by his son, John Douglas of Gyrn, a cotton spinner in Holywell, Flintshire. His ghost was said to haunt the area for many years after.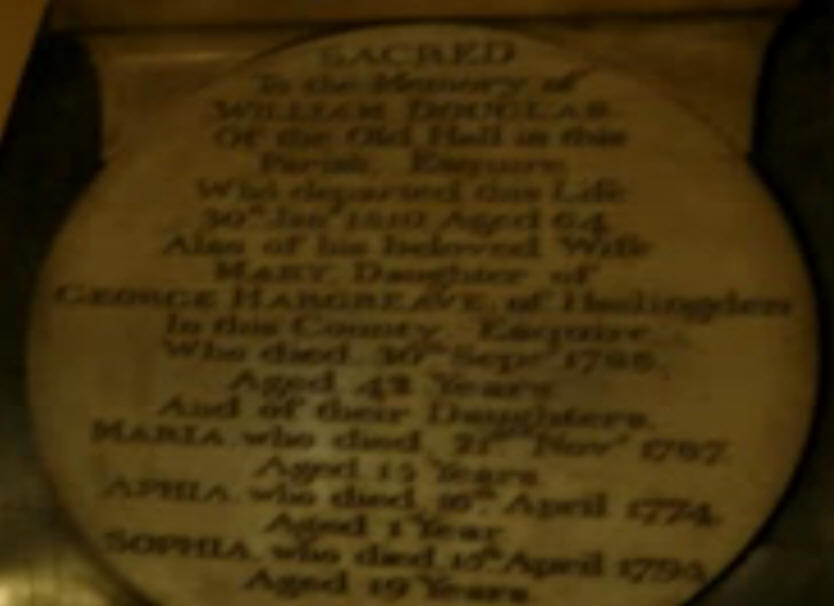 There is a memorial to him in the upper gallery of St Thomas's Church, Pendleton, which reads:
Sacred to the memory of William Douglas of the Old Hall in this parish, esquire.
Died 30th Jan 1810 aged 64years.
Also his beloved wife Mary died 30th Sept 1788 aged 42 years.
also their daughters
Maria died 21st Nov 1787 aged 15years.
Aphia died 18th April 1774 aged 1 year.
Sophia died 18th April 1795 aged 19years.

Map of Pendleton
The attached pdfs contain additional information about William Douglas.

By these accounts, he was not a very nice man!
See also:
• The Cotton Twist Company
Any contributions will be gratefully accepted
Errors and Omissions

The Forum

What's new?

We are looking for your help to improve the accuracy of The Douglas Archives.

If you spot errors, or omissions, then please do let us know




Contributions

Many articles are stubs which would benefit from re-writing. Can you help?




Copyright

You are not authorized to add this page or any images from this page to Ancestry.com (or its subsidiaries) or other fee-paying sites without our express permission and then, if given, only by including our copyright and a URL link to the web site.

If you have met a brick wall with your research, then posting a notice in the Douglas Archives Forum may be the answer. Or, it may help you find the answer!

You may also be able to help others answer their queries.

Visit the Douglas Archives Forum.

2 Minute Survey

To provide feedback on the website, please take a couple of minutes to complete our survey.

We try to keep everyone up to date with new entries, via our What's New section on the home page.

We also use the Community Network to keep researchers abreast of developments in the Douglas Archives.




Help with costs

Maintaining the three sections of the site has its costs. Any contribution the defray them is very welcome
Donate

Newsletter

If you would like to receive a very occasional newsletter - Sign up!