Armorial stone of the Duke and Margaret Hamilton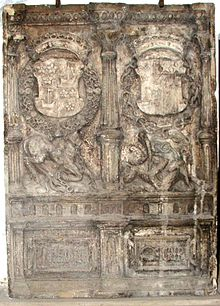 Armorial stone of the Duke and Margaret Hamilton, Kinneil House, c.1550, in Renaissance style
The 16th century painted interior decoration and a stone armorial carry Arran's ducal coronet, and the collar of the Order of Saint Michael, French honours he received in 1548. The stone has the Hamilton motto, the woodsman's cry, "Through!", and the arms of his wife, Margaret Douglas, with her motto "Lock Sickar", meaning secure or steadfast. The armorial stone was formerly set on the north pavilion of the main block of Kinneil House, and is now displayed with other carved stones in a cellar.
Any contributions will be gratefully accepted
Errors and Omissions
We are looking for your help to improve the accuracy of The Douglas Archves
If you spot errors, or omissions, then please do let us know.
The Forum
If you have met a brick wall with your research, then posting a notice in the Douglas Archives Forum may be the answer. Or, it may help you find the answer!
You may also be able to help others answer their queries.
Visit the Douglas Archives Forum.