Cavers Churches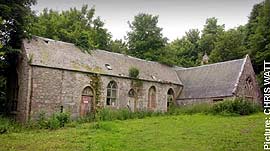 The ruined church at Cavers: founded by followers of St Columba, according to legend
All Church lands and possessions on the Cavers estate had been granted to the monks of Melrose about 1358 by William, Earl of Douglas, but the church at Cavers is apparently much older. Local legend claims that the Cavers Church was founded by followers of St Columba 1,400 years ago (circa 400AD). Parts are certainly medieval, despite a date-stone reading 1662. And generations of Black Douglases are buried in a sealed vault beneath the aisle. The "Dominical" (Church) lands of Denholm referred to in the chapters during the time of the Cranstouns were probably at Honeytown by the Stonyburn, both known today as Honeyburn. The house at Honeyburn still has a cross on the north west Gable. A possible explanation for the naming of the Cannon Gate is that the monks used to come that way into Denholm on their way to Church properties on Cavers land. They are said to have had a an apiary at Honeyburn where they came to collect their honey.
The Covenanters
In 1658, Denholm was reunited to the Cavers estate by Sir Archibald Douglas. The new Laird and his family were fervent Covenanters, bitterly opposed to the bishops and Anglican forms of worship which Charles 1st had tried to force upon the Presbyterian Church of Scotland. In 1662 the Douglas's refused to admit a curate sent by the official Church and representatives from Jedburgh were stoned by the women of Cavers. After this the Covenanters in this area were persecuted by the law and had to resort to to secret conventicles and prayer meetings in hidden places such as Pedens pulpit on Ruberslaw and Pedens Vale in Denholm Dean (just below the ruined cottage). In 1690 the Presbyterians were finally recognised as the established Church in Scotland but the strictest Covenanters would not join it. A group of them known as the Cameronians formed their own congregation in Denholm under the patronage of the Douglas family.
The Cameronian Chapel
We do not know what building they used until about 1740 when the old Cameronian chapel was built with the preachers house adjoining. The site, behind Poplar Nook on the Small Green, was given by the Laird. The Chapel had seating for 230 people and had three pulpits, the lowest one for the precentor. Seats and pulpits were later covered in red plush and the high pulpit ran the full length of the building. The Douglas family continued to reject the Established Church in their home village of Cavers and worshipped with the Cameronian "Dissenters" or "Independents" all through the 18th and 19th centuries. They would walk to Denholm and back every Sunday as it was held to be wrong to ride a horse on the Lord's Day. Their route through the Dean became known as the "Kirk Walk". Presumably any Denholm Villagers who belonged to the Established Church would take the same path to and from worship to Cavers – but in the opposite direction.
'New' Cavers Church
See also:
a. Cavers