Archibald Douglas-Campbell, 4th Baron Blythswood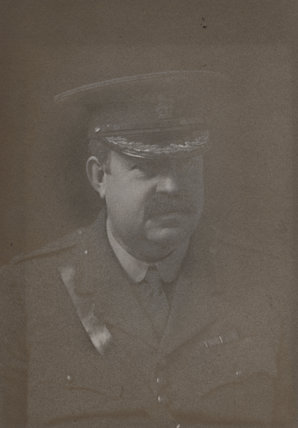 Maj. Archibald Campbell, 4th Baron Blythswood KCVO (25 April 1870–14 November 1929) was the son of Maj.-Gen. Sir Barrington Bulkeley Campbell, 3rd Baron Blythswood, and grandson of Archibald Douglas of Mains.

In 1916 his name was legally changed to Archibald Douglas-Campbell, a surname previously used by his father. Shortly after succeeding to the title of 4th Baron Blythswood, co. Renfrew' on 13 March 1918, his name was legally changed back to Archibald Campbell.

The family name of the House of Blythswood is derived from Colin Campbell of Elie, a cadet of the House of Ardkinglass in Argyll, who acquired the estate during the reign of Charles I., but through his granddaughter and heiress the property passed to the Douglases of Mains in Dunbartonshire.

He gained the rank of Major in the service of the Scots Guards (Special Reserve) and also in the service of the 4th Battalion, Argyll and Sutherland Highlanders. On 20 May 1922 he was appointed Honorary Colonel of 81st (Welsh) Brigade, Royal Field Artillery.

He was a Grand Master of the Grand Lodge of Scotland

Campbell was educated at Eton and on 25 July 1895, he married Evelyn Fletcher and they had one child:
Hon. Olive Douglas Campbell (1896–1949), heiress to the Douglas Support estate.
The tomb of Archibald Douglas Campbell in St Bede's Chapel, St Conan's Kirk, Loch Awe.

See also:
Any contributions will be gratefully accepted
Errors and Omissions

The Forum

What's new?

We are looking for your help to improve the accuracy of The Douglas Archives.

If you spot errors, or omissions, then please do let us know




Contributions

Many articles are stubs which would benefit from re-writing. Can you help?




Copyright

You are not authorized to add this page or any images from this page to Ancestry.com (or its subsidiaries) or other fee-paying sites without our express permission and then, if given, only by including our copyright and a URL link to the web site.

If you have met a brick wall with your research, then posting a notice in the Douglas Archives Forum may be the answer. Or, it may help you find the answer!

You may also be able to help others answer their queries.

Visit the Douglas Archives Forum.

2 Minute Survey

To provide feedback on the website, please take a couple of minutes to complete our survey.

We try to keep everyone up to date with new entries, via our What's New section on the home page.

We also use the Community Network to keep researchers abreast of developments in the Douglas Archives.




Help with costs

Maintaining the three sections of the site has its costs. Any contribution the defray them is very welcome
Donate

Newsletter

If you would like to receive a very occasional newsletter - Sign up!