Queensberry House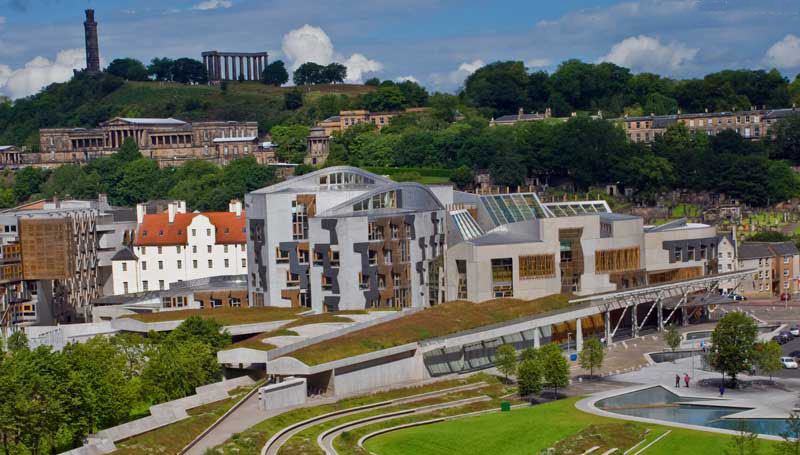 Queensberry House can be seen to the left of the Scottish parliament building, white with the red roof.
Queensberry House is a 17th century Category A listed building in the Canongate, Edinburgh, Scotland, incorporated into the Scottish Parliament complex. It contains the office of the Presiding Officer, two Deputy Presiding Officers, the Parliament's Chief Executive, and other staff.
The Georgian architecture style house was built in c. 1667 for Dame Margaret Douglas of Balmakellie(1), and bought by William Douglas, 1st Duke of Queensberry in c. 1689.
The most famous resident is probably James Douglas, 2nd Duke of Queensberry who was influential behind the Treaty of Union in 1707.
The same evening the 2nd Duke was signing the Act of Union, his son, the insane Earl of Drumlanrig, is said to have roasted a servant boy on a spit in an oven in the kitchens. The oven can still be seen in the Parliament's Allowances Office.
From 1803 to 1996 the building was used as an an army barracks, a public hospital, a House of Refuge and as a geriatric hospital.
Ian Rankin's Inspector Rebus novel Set in Darkness, first published in 2000 is partly set in Queensberry House during the reconstruction for the new parliament building.
Notes:
1. Dame Margaret Douglas of Balmakellie purchased various properties on the site in the late 1660s.
The Scots Peerage, vol. 7, Balfour Paul, J. (1910), (Edinburgh: David Douglas), pp. 20-21.
Colonel Henry Maule, of Balmakellie, (Kincardineshire) who is found associated with his father in various writs. He was one of the 'Engagers' for the rescue of King Charles I., was in command of a regiment and was taken prisoner at the battle of Preston, but escaped. He was also at the battle of Dunbar in 1650, and was again taken prisoner at Worcester in 1651. He was fined £2500 by Cromwell, a sum afterwards reduced to £1000, which his father paid. He died 1667, being buried at Holyrood 8 April of that year. He married, first, 9 August 1649 (contract 1 and 3 August), Jean Wemyss, third daughter of John, first Earl of Wemyss, and widow of Sir Alexander Towers of Garmilton and Inverleith. She died before 10 May 1662, leaving issue, and her husband married, secondly, Margaret, daughter of Patrick Douglas of Spot, by whom he had one daughter, Margaret, married to Alexander Cochrane of Barbachlaw.

Henry Maule was the son of Patrick Maule, 1st Earl of Panmure, Sheriff of Forfar
Any contributions to this item will be gratefully accepteddiv class="article_seperator">