William Douglas, 1st Laird of Drumlanrig
Sir William Douglas, 1st of Drumlanrig (born c1385 died 1421) and the Queensberry line of the Douglas Family sprung from Sir William, a "natural" son of James, 2nd Earl of Douglas. From his father he inherited the old Mar Barony of Drumlanrig (1384/8) and the whole Barony of Hawick from his cousin, Archibald, 4th Earl of Douglas.
He was a very eminent commander in the wars with England, was deputed ambassador to that kingdom, in 1412, to solicit the release of James 1 of Scotland, and obtained a charter, dated 30th November 1412, from that monarch, all written in the king's own hand, upon velllum, confirming to himself and his heirs the several baronies of Drumlanrig, Hawick, and Selkirk.
He had been granted the Barony of Drumlanrig by his father in the 1380s, and the Barony of Hawick by his cousin, Archibald, 4th Earl of Douglas, in 1407. By the age of about 20 he had been knighted, and in October 1405 he was granted safe conduct by Henry IV of England to attend a tournament in London.

He spent the next few years 'constantly passing to England, either as a commissioner for truce, as a hostage, or on diplomatic business'. In 1412 he was back in Henry IVs Court to negotiate the release of James I of Scotland, who had been captured by the English when a boy 10 years earlier. In the same year, he received a charter from King James I. [pdf 113kb]

The Douglas family had built its reputation on border warfare with the English, but this conflict had declined from the 1380s. Instead, the war between France and England on the continent offered opportunities for military glory. Although the era of campaigns conducted by minor nobles with their retinues was in decline in this period, Drumlanrig took a company of 450 men to France in the fight alongside the French forces against the English. In 1420 he led a Scots force to defeat at Fresnay(1), and died in battle in 1421(2) (not the later date of 1427, the year his son was 'retoured' to his father, ie. confirmed as his heir).

Marriage and issue
He married Elizabeth Stewart, daughter of Sir Robert Stewart of Durisdeer, and had one son, William Douglas, 2nd of Drumlanrig, and a daughter, Marion Douglas, who married Robert de Chisholm.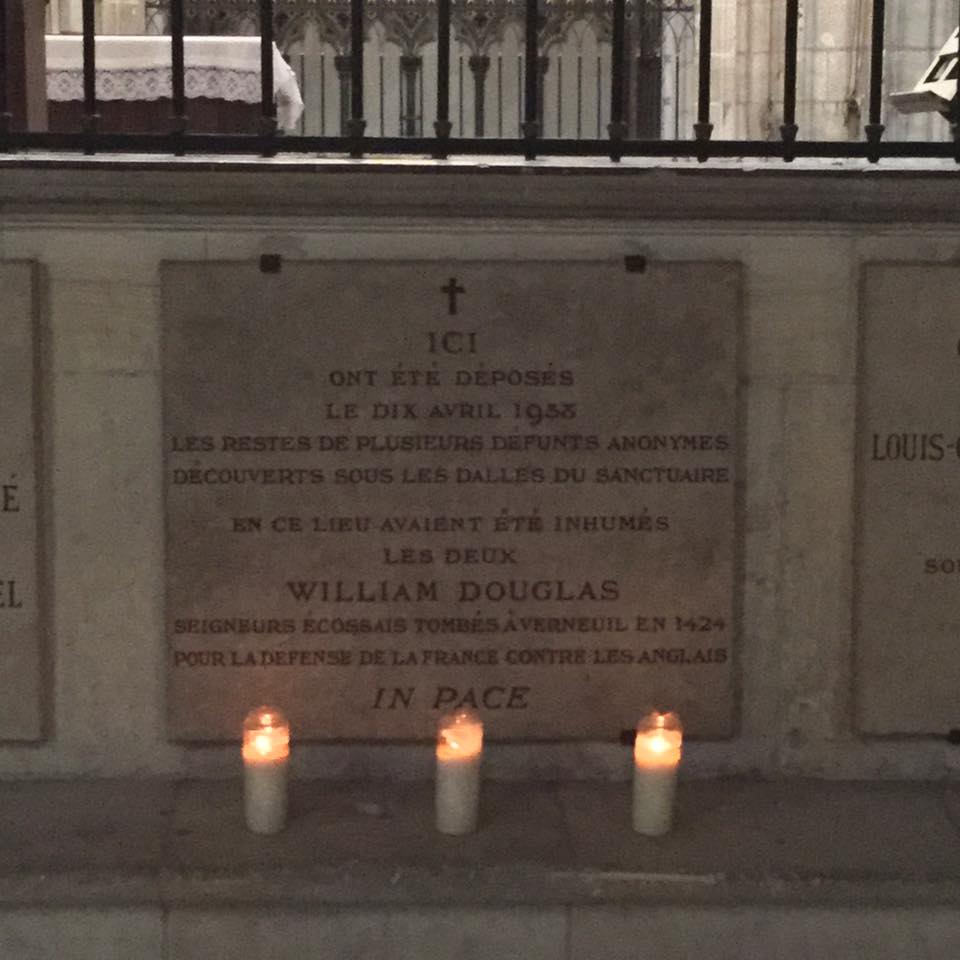 Plaque in memory of two William Douglases in the nave of Orléans Cathedral Sainte-Crois, Sir William Douglas of Drumlanrig and William Douglas of Kinross, who had helped Joan of Arc and were buried there.
The plaque refers to the battle of Verneuil, but is thought to be incorrect.

Death: 1421 in Battle in France

Father: James (2nd Earl of Douglas) Douglas b: ABT. 1358
Mother: unknown

Marriage 1 Elizabeth Stewart, daughter of Sir Robert Stewart of Durisdeer.
Children
Marion Douglas - m. Robert de Chisholme
Notes:
1. In March 1420, an English army under the command of the Earl of Salisbury, ambushed and destroyed a Franco-Scottish force at Fresnay 20 miles north of Le Mans. According to a chronicler, the French and Scottish lost 3000 men, their camp and its contents including the Scottish treasury. The booty included Sir William Douglas's standard, which was sent for public display in Rouen.
2. The battle of Bauge, a Scots victory, was in 1421. It is not clear if this is where he was killed.
Source
Sources include:
• The Black Douglases: War and Lordship in Late Medieval Scotland, 1300–1455; Michael Brown
Any contributions will be gratefully accepted
Errors and Omissions

The Forum

What's new?

We are looking for your help to improve the accuracy of The Douglas Archives.

If you spot errors, or omissions, then please do let us know




Contributions

Many articles are stubs which would benefit from re-writing. Can you help?




Copyright

You are not authorized to add this page or any images from this page to Ancestry.com (or its subsidiaries) or other fee-paying sites without our express permission and then, if given, only by including our copyright and a URL link to the web site.

If you have met a brick wall with your research, then posting a notice in the Douglas Archives Forum may be the answer. Or, it may help you find the answer!

You may also be able to help others answer their queries.

Visit the Douglas Archives Forum.

2 Minute Survey

To provide feedback on the website, please take a couple of minutes to complete our survey.

We try to keep everyone up to date with new entries, via our What's New section on the home page.

We also use the Community Network to keep researchers abreast of developments in the Douglas Archives.




Help with costs

Maintaining the three sections of the site has its costs. Any contribution the defray them is very welcome
Donate

Newsletter

If you would like to receive a very occasional newsletter - Sign up!