Douglas of Cruixton
This page is a stub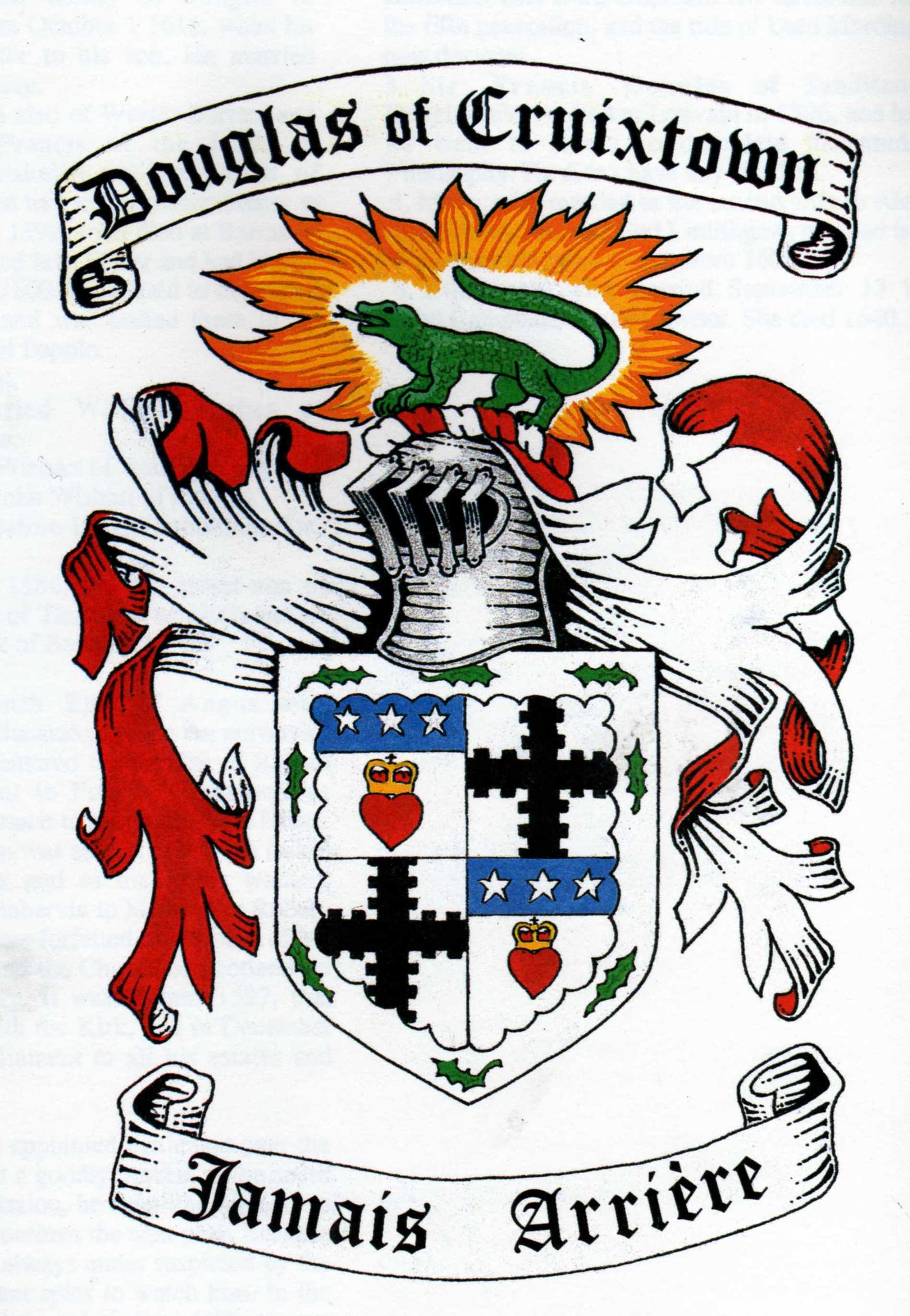 General John Douglas of Glenfinart was from the Cruixton line, but we have been unable to identify a Cruixton in Forfar.
DOUGLAS, formerly of Cruixton (L.O. , 1722). Quarterly, I and 4, argent, a man's heart gules, ensigned with an imperial crown proper, on a chief azure, three mullets of the first ; 2 and 3, argent, a cross counter-embattled sable, the whole within a bordure engrailed argent, charged with eight holly-leaves vert. Mantling gules, doubled argent. Crest — On a wreath of his liveries, a salamander vert, in flames and spouting out fire proper. MottO — " Jamais arriere. "
Only son of Charles John Cathcart Douglas, Esq., J. P. and D.L. co. Argyll, d. 1857 ; d. 1926; m. 1880, Helen Tolmie Dick, d. of Gen. John Bayly, C.B., R.E. : —
Archibald John Angus Douglas, Major late 79th Queen's Own Cameron Highlanders, i. 1883. Res.— 6 Royal Crescent, Bath. Clubs — Caledonian, Shikar ; New (Edinburgh). , i. 1883. Res.— 6 Royal Crescent, Bath. Clubs — Caledonian, Shikar ; New (Edinburgh).
Robert of Cruixton, sugar boiler in Leith, was the son of the Rev William Douglas of Blackmiln, bc 1600, himself a great-grandson of Sir Archibald Douglas of Glenbervie
Stirnet states John Douglas was the ancestor of Douglas of Cruixton, Quarrelholes and Blackmill (Blackmiln) himself the son of Sir Archibald Douglas 2nd of Glenbervie (d 29.09.1570), who was the son of Sir William Douglas of Glenbervie (d Flodden 09.09.1513)
1 John Douglas b. 27 Mar 1608

2 Robert (Of Cruixton) Douglas b. 1630 d. 1717
marr Helen Hunter b. 1642 d. 1711
3 Robert (Of Cruixton) Douglas b. 31 Apr 1667
marr Rachael McFarlane b. Abt 1667
4 William (Of Leith) Douglas b. 3 Dec 1696
'Robert Douglas of Crookston' (not Cruixton) was a subscriber to 'The martial atchievements of the Scots nation' by Patrick Abercromby in 1715, the year one of our Roberts 'of Cruixton' died.
Not to be confused with Cruixton Castle, near Paisley (also known as Crookston Castle)
See also:
Stained glass window - Dunlop Church
Any contributions will be gratefully accepted
Errors and Omissions
We are looking for your help to improve the accuracy of The Douglas Archives.
If you spot errors, or omissions, then please do let us know.
The Forum
If you have met a brick wall with your research, then posting a notice in the Douglas Archives Forum may be the answer. Or, it may help you find the answer!
You may also be able to help others answer their queries.
Visit the Douglas Archives Forum.
What's New?
We try to keep everyone up to date with new entries, via our What's New section on the home page.
We also use the blog to keep researchers abreast of developments in the Douglas Archives.