Angus, 15th Duke of Hamilton
| | |
| --- | --- |
| | |
| | The Duke and The Queen entering the Scottish Parliament on the occasion of the state opening, 9th October 2004 |
The Duke of Hamilton, (13 September 1939 - 5 June 2010) who [has] died aged 71 following dementia, was Scotland's premier peer and held the nation's principal duchy.

As nobleman and landowner, he looked every inch the aristocrat he was, yet he shrank from use of the term.

Tall, lean, handsome with film star looks and a full head of fair hair, Hamilton's innate shyness belied his outward confidence, and he disliked public appearances immensely. As holder of several ceremonial offices, he found the public discharge of these duties verging on the nightmarish. Yet reared from childhood towards duty and responsibility, he cut a striking figure as heriditary bearer of the Crown of Scotland at the inauguration of the Scottish Parliament in 1999. Those who saw him alone in the limousine carrying the crown to the ceremony, how ever, recall his face haggard with anxiety.

Hamilton inherited much, but was a man who worked to secure his own position, a university graduate who became a chartered engineer – and whose business card read modestly "Angus Hamilton MA CEng Member of the Institution of Mechanical Engineers". His extensive flying interests even touched space with his being made a Fellow of the British Interplan etary Society.

Had he been born a commoner, he would have excelled as a manager, for he set himself goals and targets, and drove himself to realise them. But too often, his achievements were assumed to be because of his ducal status. By contrast, if he undertook the plain and ordinary, he was viewed as having descended from his plinth.

Son of ducal parents – his mother Lady Elizabeth Percy was the elder daughter of the 8th Duke of Northumberland – Hamilton managed to escape the paternal shadow of a high-achieving distinguished father, but the ghost of the 14th duke nevertheless bestrode his son's life. His father in 1933 had become the first to fly over Everest, and in 1941 took the news to Churchill that Rudolf Hess, Hitler's deputy, had landed in Scotland. When Angus succeeded to the title in 1973, his first task was the grim duty of following his father's wishes and scattering his ashes from an aircraft above East Lothian.

The thrice-married Angus Alan Douglas Douglas-Hamilton, 15th Duke of Hamilton, 12th Duke of Brandon, held the marquisates of Douglas and Clydesdale, the earldoms of Angus, Lanark, Arran and Cambridge, the lordships of Abernethy, Jedburgh Forest, Aven, Innerdale, Machansyre and Polmont, and the barony of Dutton, and was also pretender to the French dukedom of Chatelherault. His titles were all Scots bar Brandon and Dutton – both of which lie separately in the UK peerage. By right of birth, he held the hereditary office of state of Keeper of the Palace of Holyroodhouse, and as Lord Abernethy was hereditary Bearer of the Crown of Scots in Parliament. He fulfilled the latter duty by carrying the crown before the Queen at the openings of the Scottish Parliament.

Angus was born in London, following his father to both Eton and Balliol College, Oxford and into an RAF commission. This last was a family rather than a filial move, for his father and three uncles formed a fraternal foursome who made minor UK military history by all being at the rank of squadron-leader or above at the outbreak of the Second World War.

The young Angus quickly progressed to flying instructor and instrument rating examiner before being invalided out in 1967 as Flt-Lt Lord Clydesdale. But flying was in his blood, and he gained a commercial pilot's licence that same year, becoming a test pilot with Scottish Aviation at Prestwick, the company with which his father had long been associated. He never lost the flying yen: in later life he graduated to aerobatic displays, stunting in a Bulldog biplane until 2003. All the while, he devoted much private time in public service as honorary air commodore of No 2 (City of Edinburgh) Maritime Headquarters Unit of the Royal Auxiliary Air Force.

He loved speed, and away from the air, led the team which in an astonishing nine-year period from 1992 broke more than 150 UK and international land speed records for diesel vehicles. He is remembered as not merely "the boss", but as the quietly methodical and knowledgeable engineer supplying considerable theoretical input into design and evaluation of test engines for the Mercedes.

Like his father, he had a long association with piping, and it is no coincidence that the RAF pipes and drums play in his own preferred tartan of Grey Douglas rather than Red or Green Hamilton. He lent early active patronage to the British Airways Pipe Band, and occupied honorary positions with the Royal Scottish Pipers Society and the Piobaireachd Society. An unrealised ambition was the establishment of a piping centre at Lennoxlove, his East Lothian home anciently called Lethington – latterly his business centre after he and his third wife Kay moved to nearby Archerfield.

When he was appointed patron of the St Andrews Society of San Francisco two decades ago, he was received by a piper playing "The Duke of Hamilton's Welcome To The St Andrews Society Of San Francisco", composed in his honour. Back home, he framed a copy of the tune.

Lennoxlove houses the famous Hamilton Palace collection of furniture and paintings as well as mementoes of Mary, Queen of Scots. Always interested in Scotland's tragic queen, he produced Marie R, a critically acclaimed biography in 1991. Prior to publication, he passed draft manuscripts round a few friends for their reactions. Told by one that he had been "unnecessarily harsh upon the English", he queried innocently: "Have I?". Then added "Maybe that's maybe not a bad thing".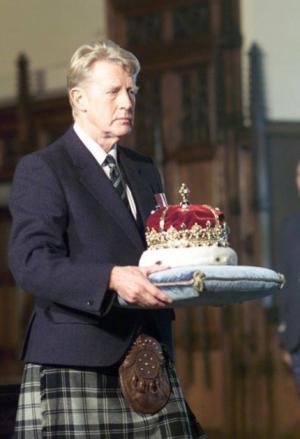 The Duke, as Lord Abernethy, was hereditary Bearer of the Crown of Scots in Parliament. He fulfilled the latter duty by carrying the crown before the Queen at the openings of the Scottish Parliament. Here, he is wearing the Grey Douglas tartan kilt.

Erroneously but popularly acclaimed as head of the house of Hamilton (that distinction lies with the dukes of Abercorn), he regarded himself as a Douglas, and sported a kilt of Grey Douglas. He might have been chief of Douglas but was not recognised as such by the Lord Lyon because of his double-barrelled surname Douglas-Hamilton.

Like his father and his younger brother Lord James (now Earl of Selkirk), Hamilton pursued the "noble art" in his youth, and was held in some renown in boxing circles. When in his role as patron of the Commonwealth Games Council of Scotland, he paid a formal call on the Scotland team in the Commonwealth Games village in Auckland in 1990 and discovered that Dick McTaggart, one-time Olympic boxer, was national boxing team manager, he made the Scotland headquarters his second home, enjoying the informality and genuine interest that springs up among sportsfolk.

It seems almost unfair that his latter years were seen as clouded by three marriages and a battle with the bottle. It was through his own steadfastness and the devoted help of Kay Carmichael, present Duchess (the nurse from Aberdeen he married in 1998) that he overcame an alcohol dependency and regained his driving licence.

Hamilton's first wife and mother of his four children, was the late Sarah Scott (died 1994), daughter of Sir Walter Scott, 4th baronet of a Northumberland title. He married secondly in 1987 Jillian Robertson, the Australian writer and botanist – and one of whose previous two marriages had been to Edward Hulton, son of Picture Post proprietor and magazine baron Sir Edward Hulton.

Unlike his politically active sibling James, Angus's Westminster involvement was largely confined to work on the European sub-committee on energy and transport in the 1970s. He served with authority and distinction as Prior of the Order of St John in Scotland for seven years from 1975, chairing the Christian charity through a period in which it prepared itself for a new role as a leader in funding and support for mountain rescue in Scotland. For more than three decades, he had been a member of the Royal Company of Archers (Queen's Bodyguard in Scotland).

With his third wife Kay he formed a close and loving marriage, settled and content, and together forming a formidable pair in the promotion of compassion for animals. They successfully persuaded the Edinburgh department store Jenners to stop selling foie gras, and promulgated a strictly anti-blood sports agenda. Such ducal distaste may have been genetic, for his grandmother, Duchess Nina, founded the Scottish Society for the Prevention of Vivisection in 1912.

The Duke is succeeded in the title by his eldest son Alexander Douglas, Marquess of Douglas and Clydesdale.

- The Herald, 8th June 2010