Garrallan House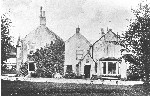 Garrallan was owned by the Campbell family until 1676 - the Douglas family followed but it became extinct in the male line. Jane Douglas married Hamilton Boswell.
Garrallan House was then owned by Colonel Boswell and later by his son John Boswell , who sold the estate in 1951 to the Stevenson family , who had been long standing tenants of the land on the Garrallan estate.
Dr. Patrick Douglas
(died 1819), who lived here, also owned property in Jamaica and he offered work to Robert BURNS in 1786 - but the poet declined. Burns was a visitor at Garrallan.
See also:
Burns and the Douglas connection
Any contributions will be gratefully accepted
Errors and Omissions
We are looking for your help to improve the accuracy of The Douglas Archives.
If you spot errors, or omissions, then please do let us know.
The Forum
If you have met a brick wall with your research, then posting a notice in the Douglas Archives Forum may be the answer. Or, it may help you find the answer!
You may also be able to help others answer their queries.
Visit the Douglas Archives Forum.
What's New?
We try to keep everyone up to date with new entries, via our What's New section on the home page.
We also use the blog to keep researchers abreast of developments in the Douglas Archives.